The vineyard features fully sustainability. I'd like to stop by, stay a night or two, and sample the food as well as their wines. Restaurant. Deli. And you can even do a farm picnic.

Their vision is to balance tradition and experience with contemporary innovation to produce classic wines with measured modern new world attitude that are uniquely Boschendal.

So we are sampling their Chardonnay. The one with hints of oak spice. Unirrigated, well drained, rocky shale terroir. Whole bunch pressed. Natural fermentation. Then 11 months in oak.

It is big on aroma and flavours, great nose with citrus on the palate. Well balanced, good complexity and roundness.

Early sampling sorta screamed pasta – so we did … with lots of garlic, red and yellow pepper strips, red onion, egg noodle pasta.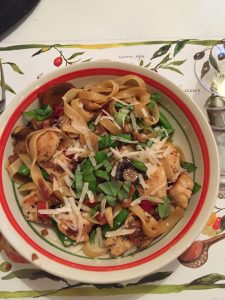 CHARDONNAY – BOSCHENDAL WESTERN CAPE 2019
$19.99
13.5% alcohol
UPC: 06001660003824