Definitely NOT evil flowers as the label indicates.
These belong on the list of The Wines of Summer.

Plunk me down in this chunk of South Western France. and let me wander.  I think we would do just fine weaving our way from vineyard to vineyard enjoying the wines of summer.

A little of this, a bit more of that, and lots of this – mix and match that go with tapas, cheeses, or even roasted poultry. Colombard, Ugni Blanc (known as Trebbiano in Italy), and Gros Manseng, along with international varieties like Sauvignon Blanc and Chardonnay.
Because they are high in acidity and have relatively neutral flavors, Colombard and Ugni Blanc are often distilled to make brandy in South West France.

I suggest that you serve the white a little colder than other whites.
COTES DE GASCOGNE – LES FLEURS DU MAL
$16.99
11.5% alcohol
UPC: 08717545260081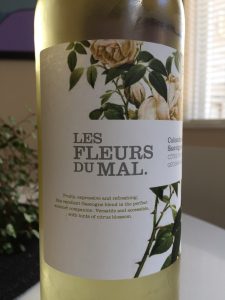 And then we experimented with berry fragrances and a clean, well-balanced finish.

20 to 40 year old vines in the Languedoc / Roussillon region.  

The wine worked really well with grilled pork tenderloin rings (salsa of apple, purple onion, and mushrooms)Great refresher in the heat.

CEVENNES ROSE – LES FLEURS DU MAL
$15.99
13% alcohol
UPC: 03495864011212